In today's digital landscape, getting backlinks is crucial for enhancing your website's visibility and search rankings. Backlinks serve as a vote of confidence from other websites, signaling their trust and authority to search engines like Google. In 2023, the significance of backlinks remains steadfast, and implementing effective strategies to acquire them is paramount.
This article will unveil quick and straightforward methods that anyone can employ to get backlinks for their website. Following these techniques can propel your site's authority and attract organic traffic, ensuring a competitive edge online. Discover the secrets to obtaining valuable backlinks and harnessing the power of link-building in the dynamic world of 2023. 
Why Are Backlinks Important?
Backlinks are links from external websites that direct users to your website. They are known as inbound links or incoming links. Backlinks play a important role in search engine optimization (SEO) and are important for several reasons:
Improved Search Engine Rankings

: Search engines like Google see backlinks as a sign that a website is trustworthy and has power. It can improve the website's rankings. Websites with many good backlinks rank high in search engine results.

Increased Organic Traffic

: Backlinks from reliable sites can bring more visitors to your website. Visitors can become regular visitors to your website when they click on a link.

Enhanced Brand Visibility

: Backlinks from authoritative websites can expose your brand to a broader audience. More people will learn about your brand online if other trustworthy sites link to yours.

Credibility and Trust

: Backlinks show that other websites trust your website, making it more reliable. This means people are likely to believe what they see on your site. Having other websites link to your content indicates that your information is valuable and trustworthy.

Discoverability:

Backlinks help search engine crawlers discover and index your website. Search engines find your website more valuable if many good websites link back to it.

Networking and Relationships

: Building backlinks often requires connecting with other site owners or influencers in your field. This can help you make friends and find people to work with in the future.
Backlinks are super important for SEO. They assist your site in ranking higher on search engines and getting more traffic. Plus, they can make your website more visible online. Using good ways to get more links to your website can make it more important and attract more people.
Effective Link-Building Strategies to Improve Your SEO
You understand what makes a good backlink to improve your website's SEO. First, good backlinks come from popular brands and leading websites in the industry. Getting links from bad sources can hurt your reputation and SEO.
Relevance is important for backlinks on Google. They are more valuable if they are from websites on the same topic. If you have a website on web development, getting links from a trustworthy tech site is better than links from a travel blog. Using appropriate anchor texts can help readers understand the context of a link.
Ensuring that backlinks are "dofollow links" is important for link-building. These links transfer link equity between web pages, which is crucial for success. "nofollow" backlinks don't pass on the referring domain's authority. So, these links provide fewer SEO benefits for your site.
Additionally, diversifying your sources is crucial. Google values having a diverse range of sources more than having a lot of links. Therefore, getting ten links from ten websites is better than a hundred links from one source. To improve your website's SEO, follow these traits when building links. It will help make your link-building more effective.
Create Link-Worthy Content
Creating linkable assets is a highly effective technique for building links, as it involves producing high-quality content that naturally attracts organic links and shares. Various types of linkable assets can be considered:
Offering free tools is valuable to readers and helps attract backlinks. Fitness website owners can create a calculator to help people analyze their meals.
Crafting detailed tutorials can get you many backlinks for your site. It is because any site can utilize it as a reputable source to enhance its content.
Studies can help you get links to your content. You can research or gather data from different sources to write informative articles with facts. Bloggers and publishers can use their data to support their claims and arguments.
Publish Comprehensive Guides
Creating ultimate guides is a great way to dive deep into a topic, cover all the important words, and make thorough content. This can help you produce quality content. Focusing on evergreen topics has an advantage. They stay relevant for a long time, so you can promote the content well without many updates.
Once you've chosen a topic, begin by conducting a Google search for the target keyword. Analyze existing articles to understand their content structure, keyword usage, and optimization techniques. This information will help you write a better blog post.
Once you've created your content, it's important to use backlinks to get more people to see it. Seek out relevant websites in your keyword donor niche and engage with them. Communicate how your guide helps readers and ask them to link to your own website. Also, look at the websites that link to similar articles and position your guide as a better option. Highlight your content's unique and valuable aspects to entice others to link to it.
Expert tip: Our experience shows that detailed guides get more natural backlinks. Other websites can find valuable information within a single article. This is logical. Competition for comprehensive guides is tough. Your content must stand out to succeed. Make it unique and helpful, and cover all the essential aspects of the topic.
Use Infographics to Get Backlinks
Infographics are pictures that show data. They are good to use when creating content. In today's saturated blogosphere, utilizing infographics can effectively differentiate you from the competition.
Incorporating infographics in your content can be helpful. There are many reasons why.
Infographics are great for sharing information in an easy and fast way. They save time and help people understand better.
Infographics can grab an audience's attention, making them more interested and interactive. This increased engagement can be very beneficial.
Visual aids like infographics help you remember things better. That's why they make your message more memorable and powerful.
Infographics are often shared more than other content types. It makes them easily shareable across different platforms.
Creating infographics doesn't have to be complicated or expensive. Canva and Visme are online tools that help you make infographics easily and for free.
Share your infographic on your website, Instagram, Facebook, or Pinterest when you finish making it. This strategy will expand your reach and engage a broader audience.
Build Links Through Listicles
You can start by using Google search symbols to find lists that don't have your website. You can exclude your brand from the results by using the minus sign (-) in your search query.
If you look for "best design inspiration websites -YourBrand" on Google, you will see pages without YourBrand.
Once you have the list, contact the creators and suggest adding your site. Give good reasons why your brand is better than the others.
Well-known businesses can use SEO tools such as Ahrefs. This helps them find cases where their brand has been mentioned but not linked.
Go to Content Explorer.

Search for your brand name while excluding your website address. For example, search for "YourBrand" -site:

example.com

.

Click on "Highlight unlinked" and enter your domain name.
The tool shows pages that mention your brand but don't link to your website. Filter the search results to identify relevant link-building opportunities.
Reach out to the authors and kindly request they include links to your site.
Expert Tip:
When other people mention our brand on their blogs, it shows they value it and want to share it with their audience. Reclaiming lost backlinks can be easy. You can usually get them back just by sending a friendly email request.
Do Link Gap Analysis
Studying your rivals can improve your link-building plan. Also, make excellent content. You can use these ways to determine what content, keywords, and traffic sources work best for your competitors.
To find the best websites that link to your competitors, do a link gap analysis using these steps:
Visit the Ahrefs Site Explorer.
Enter the desired domain name.
In the Backlink Profile section, click on Backlinks.
Choose Dofollow and New.

Enable the Live links only option.

To get a competitor's backlink report, follow these steps. Ahrefs will give you details on each page's monthly traffic and keywords.
Utilize this data to pinpoint authoritative sources within your niche. You can show these websites why your content is better than your competitors. We can break it down into shorter sentences to make it easier to read. So: 1. Look for guest posting websites. 2. Check if your competitor uses them. Consider submitting your articles to these platforms as well.
Guest Blogging
Guest blogging is a widely practiced method where individuals write articles for external websites, typically in exchange for backlinks. You can find websites that let you make a guest post by searching "target keyword + write for us" on Google.
After you see the search results:
Go to the "Write For Us" pages on the websites that fit your topic.

Follow the guidelines if you want to write a guest post.

Locate the contact information provided and compose a concise email to introduce yourself.
Include your article idea and explain why it should be published as a guest post in the email. You can repeat this process to become an expert in your field. You'll also get useful links to your website. To make your emails effective, keep them short and personalized. People usually don't like long and boring emails.
Having catchy subject lines can help get the reader's attention. Finally, suggest an article title or idea that adds value to the recipient's website. It could help increase website visitors, make other websites refer to it, and show that it's related to the specific topic.
Find Broken Links to Build Backlinks
Broken link building is the best effective SEO strategy to yield positive results. Links can break for many reasons. For example, if a page is removed, the URL changes, or the domain name expires.
To start, you can find broken links on a competitor's website by following these steps:
Visit Ahref's Site Explorer.

Enter the website's address.

Go to the Backlink Profile and click "Broken." This will show all the broken pages on the competitor's site.
You can alert the referring domains to the broken links if you have the above information. Additionally, you can suggest replacing them with links to your relevant content.
Here's an expert tip: This approach benefits you and the site owner since nobody wants to break external links in their content. However, ensuring that your content is a suitable and valuable replacement is crucial. It should make sense in the context and be worthy of linking to. Therefore, when explaining the value of the change, be straightforward.
To make your pitch for broken link-building effective, consider answering these questions: Why is your content important? How is it better than other sources on the same topic? Why does the broken link need fixing? Knowing the answers will help you create the best pitch.
Join the Business Organization
Joining a business organization has many benefits. You can learn from experts and get insights to grow your business. In addition, this offers a chance to get more links to your site. Organizations like this often add links to their members' sites.
Local business owners should join and locate relevant organizations in their area first. After joining, ask the web admin to list your website on their directory page.
Participate in Forums
Engaging in online forums is an effective strategy for building links. It enhances your reputation as an industry expert and drives targeted traffic to your website. First, look for forums with do-follow backlinks in your area of interest. You can also examine your rivals' websites to find the forums that connect to them. Here's how:
Visit Ahref's Site Explorer and enter the competitor's website.

Navigate to the Backlinks Profile section and select "Backlinks.".

Choose the "Dofollow" option.

Enter "forum" in the search field.

Apply the Domain name filter and click "Show Results.".
Once the tool displays all the referring sites, create accounts on those platforms and address relevant questions. Include a website link in your signature, and incorporate contextual links to your page regarding the discussed topic.
Additionally, consider joining popular question-and-answer platforms like Quora. Quora uses nofollow links, but you can still show what you know to more people.
Become a Trust Source for Journalists
To get more visibility in top publications, it's helpful to be a source for journalists. HARO is great for getting in touch with media who need sources.
To get started, sign up as a source on HARO and select the plan that suits you best. Starting with the free plan is a good idea to get to know the platform before upgrading.
After you sign up, HARO will send you emails with requests from different news outlets. The emails contain details like the reporter's name, field, firm, inquiry, and needs.
If someone asks for help, give them useful tips matching their needs. If your response is chosen, the news website will include a link to your page. If you join HARO and share your ideas with journalists, you can get featured on good news sites.
Utilizing Google Search Console
Monitoring your backlinks' health and performance is essential. It is just as important as creating them. Use Google Search Console to check your links and find problems or chances to add more links.
Check the Coverage report to find broken links or pages on your site that other websites link to. Then, redirect the external links to the correct URL.
This report shows the sites that link most to your website. They mentioned your website, so ask them if they can add more links.
This section shows which pages on your site have the most links from other sites. Use this info to find the content that fits your link-building plan.
What sites to select for the link-building campaign?
Link Building is one of the main parts of enhancing your SEO efforts. But how to identify what sites to select to place the link? Nobody knows how exactly the PageRank algorithm works. That's why detailed requirements and rules exist on what sites are good or bad for link-building campaigns. When you select the site to place the link, you suggest it should help your ranking. Google has yet to determine how valuable each link is. However, there are some basic concepts that the SEO community generally believes to be true when evaluating links.
Choosing appropriate link-building resources is a time-consuming process, often regarded as one of the most meticulous and labor-intensive tasks in SEO. It entails the thorough evaluation of websites based on various criteria. We made a list of important link-building metrics that will help simplify this task. We want this compilation to help you and make the process easier.
Niche Relevance
You can link a website from a different business area without any issues. But why use it? Even if a good cooking blog links to a soundproofing website, it won't bring many visitors or customers. If you use link networks, it's better to filter by niche. It makes sure things are related and gives you better results.
Let's say that you have a SaaS service that offers payroll services. Your target sites should have topics like Tech, Business, and Finance. Most sites write about gadgets, hardware, or games when looking for Tech sites. So your most relevant site describes the latest tech trends in the software as a service industry. Topic Business sounds good, but most of the articles can be about agriculture or another non-relevant field. The finance topic looks remarkable. Nevertheless, the site can cover trading tactics. So you need to search sites with a focus on the automatization of finance processes.
How to find suitable niche-relevant sites?
Select a method to search relevant sites.
There are many ways to get backlinks, and all of them start from collecting a list of sites to place your link. We'll discover the most popular options:
Competitor analysis
You can analyze your direct competitors and sites close to your niche. For instance, you have a tutoring service, so you can research Education sites and pay attention to sites that offer essay services. Following the list of competitors, gather a list of websites your competitors link to.
We recommend automatizing this approach using services like Ahrefs. You can filter sites using metrics like DR, traffic, Type link (dofollow/nofollow), and language.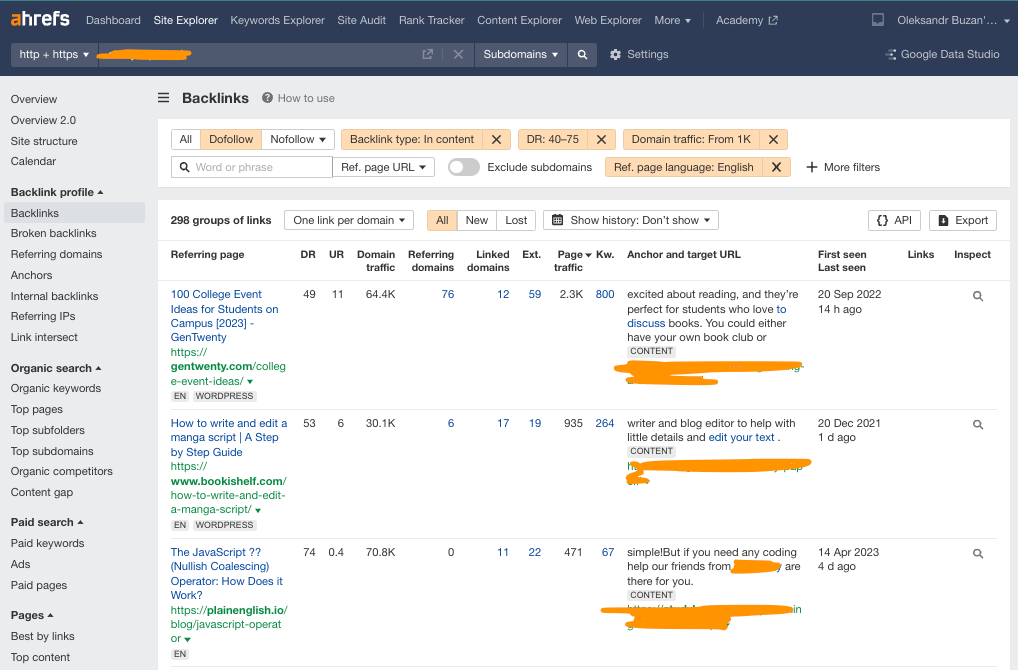 You receive a list of sites where you can get backlinks to your domain.
When you can see guest post authors, you can find sites to submit your posts. The pro of this approach is that most sites should meet your requirements. The guest post authors who selected sites for contributing posts already do research work for you.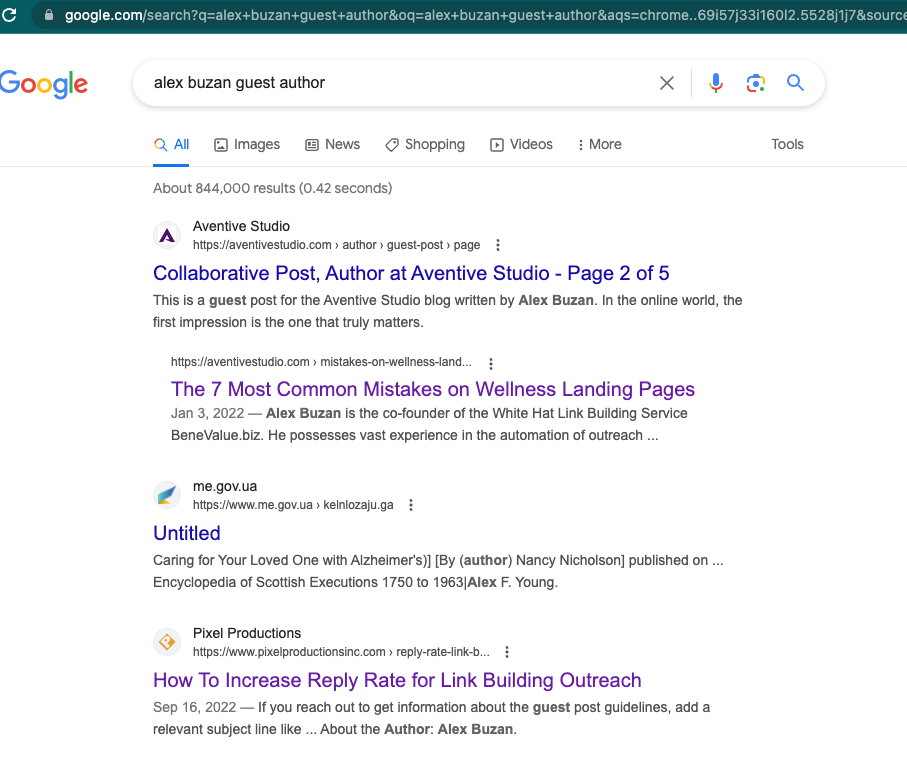 We would recommend paying attention to the publication date of the contributed posts. Some sites had already stopped accepting posts, so we considered sites where posts were submitted 1 or 2 years ago.
Gather all links to one spreadsheet.
When you analyze your competitors and sites who related to your industry, you can gather all researched backlinks into one file with the following purpose:
– to remove duplicates
– to remove sites that already were analyzed by you
Here is the detailed video manual on how to easily collect all sites into one CSV file.
Start to analyze
You can use Excel spreadsheets or PR and outreach software solutions to gather information about your prospects (sites that meet your link-building requirements).
We use the Buzzstream solution to compare previously added sites and remove sites with bed metrics. We've already collected much information about sites and can easily reject sites that don't meet the client's requirements. Nevertheless, you can use Google Excel Sheets to analyze sites manually.
We receive a lot of requests to find sites based on specific requirements. Moreover, every SEO and Marketing specialist has their vision of what metrics to use to select suitable sites for high-quality backlinks. We divided metrics into two categories:
– Quantitative indicators so you can use software metrics like Domain Authority, Traffic, Referring pages, etc.
-Qualitative indicators mean that you estimate based on your expert vision. For instance: Niche relevance, traffic trends, and others.
Top Quantity Metrics to estimate the site
Here is the list of metrics that you can use to reject low-quality sites.
– Domain Authority (DA or DR). Usually DR30+
– Traffic (Ahrefs). Our main criteria are 1000+
– Linked Domains
– Ahrefs refdomains (incl, how many essay, casino, cbd links)
– Amount of Keywords
– CF
– TF
– Traffic Value (Ahrefs)
– Spam score
Calculated metrics
It's an approach where you make your indicators to estimate the quality of the sites. Here are samples of such metrics that were shared with us by our clients.
TF/CF
DR/UR
Keywords/Traffic
Large projects develop their scoring models to estimate sites based on the metrics.
Top Quality Metrics to estimate the site
Quantity metrics are suitable for initial research. Nevertheless, after quality research, we decided to get backlinks on the selected sites. Let's review the most popular checklist when you estimate the site to get backlinks.
Indexation by search engines
You can review the last published stories on the site and check if search engines index them. It helps save time if the last published stories on the selected site don't index. Moreover, the post sample tells you whether you can publish your story.
Why must you find a sample of the site guest/sponsored post?
– last published stories with old date; it seems that the site doesn't publish posts now;
– last posts don't index by Google; it's better to skip this site;
– you can review what link attribute is assigned to commercial links: dofollow, nofollow, or dofollow with the real "sponsored";
– quality content, amount of words shows you if you can offer similar content;
– a lot of commercial links means that the site inserts a lot of link insertion on the previously published stories that can potentially decrease the value of your linking in the future.
Keywords a Website Ranks For
Knowing a website's top keywords helps create a content marketing plan. Do you have content for a particular part of your audience? If so, where is the best place to put it? To choose the best links for your audience, look for specific words that match their needs. Using a trustworthy tool or software is the best way to analyze keywords quickly.
– Ahrefs
Some sites boost traffic so that you can check it in Ahrefs. Keywords like [pii_email_xxxxx] mean that the traffic is artificially created.
Geographical Location
You should get backlinks on sites from your product region. We'll describe how to check it.
Country Traffic
Your audience is the US market, so your focus should be on the mentioned country.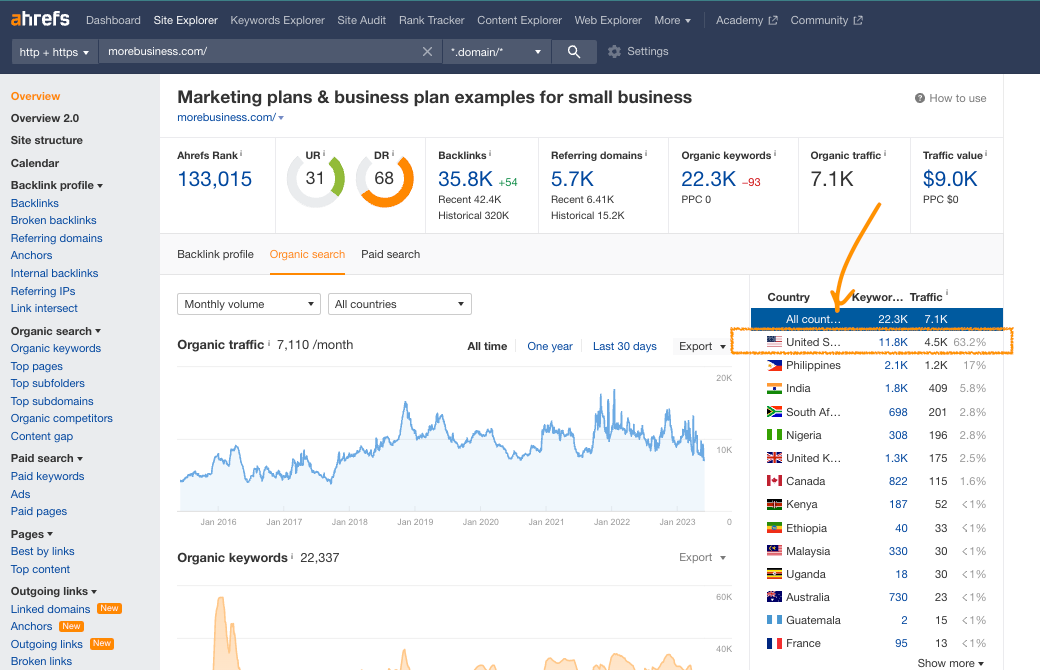 Traffic trend
You need to review traffic trends. The most suitable option is slightly growing. You should avoid sites where you can see a significant drop or increase in traffic. Moreover, it helps to identify if Google search engines banned the site. Also, you can see if the site has a long history or is newly registered.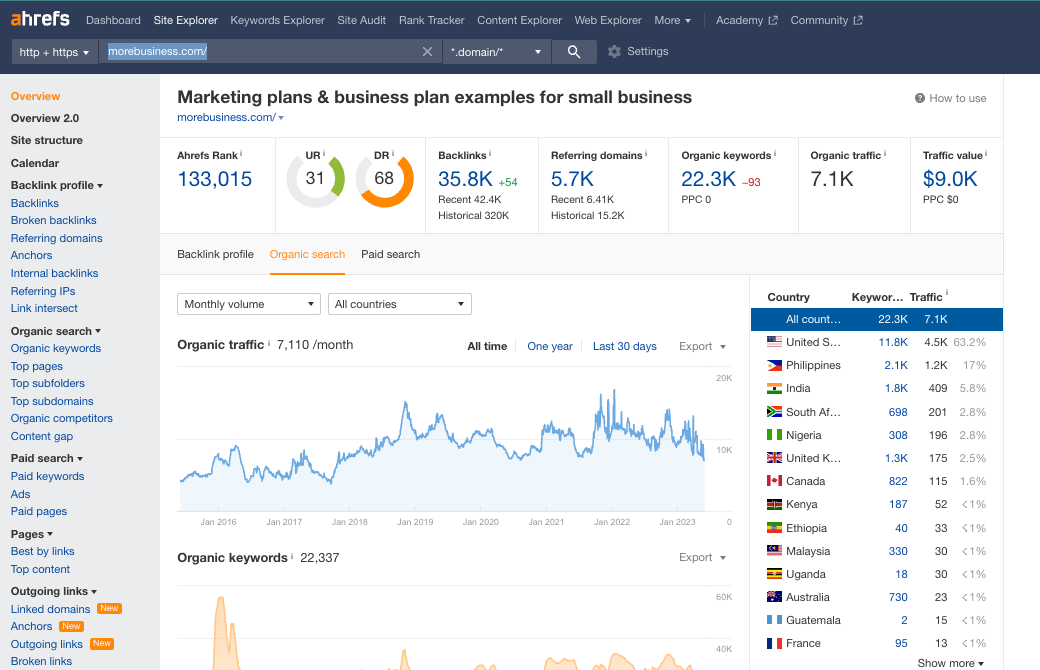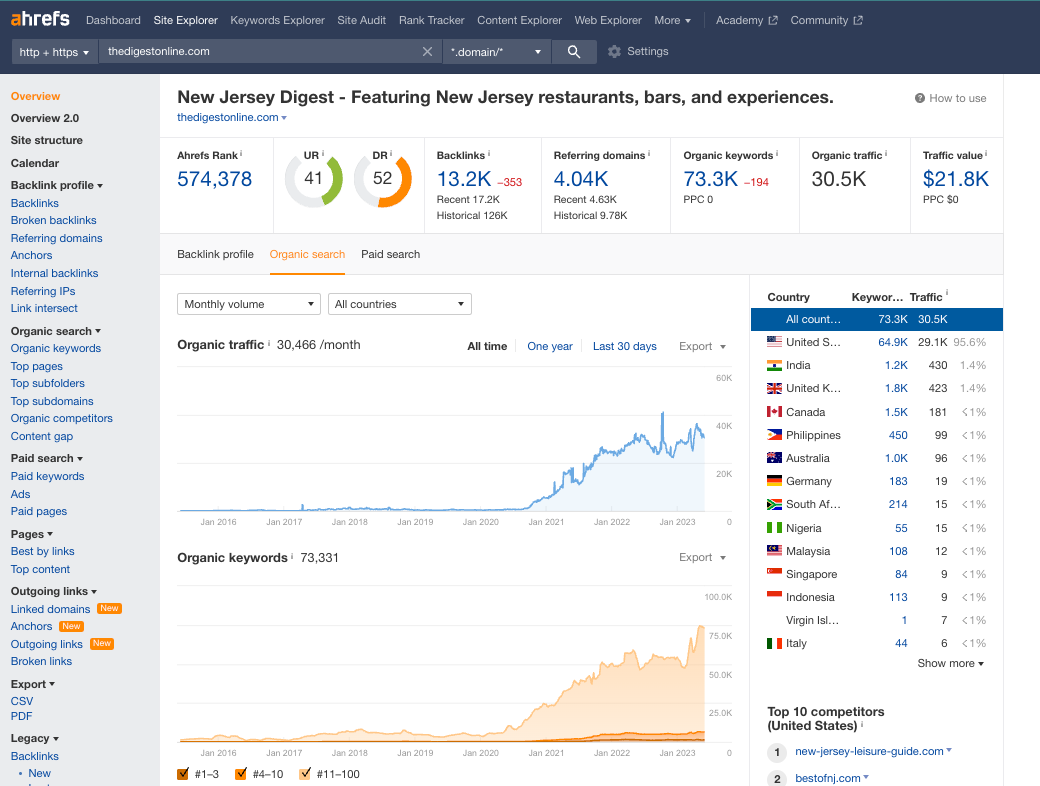 Good samples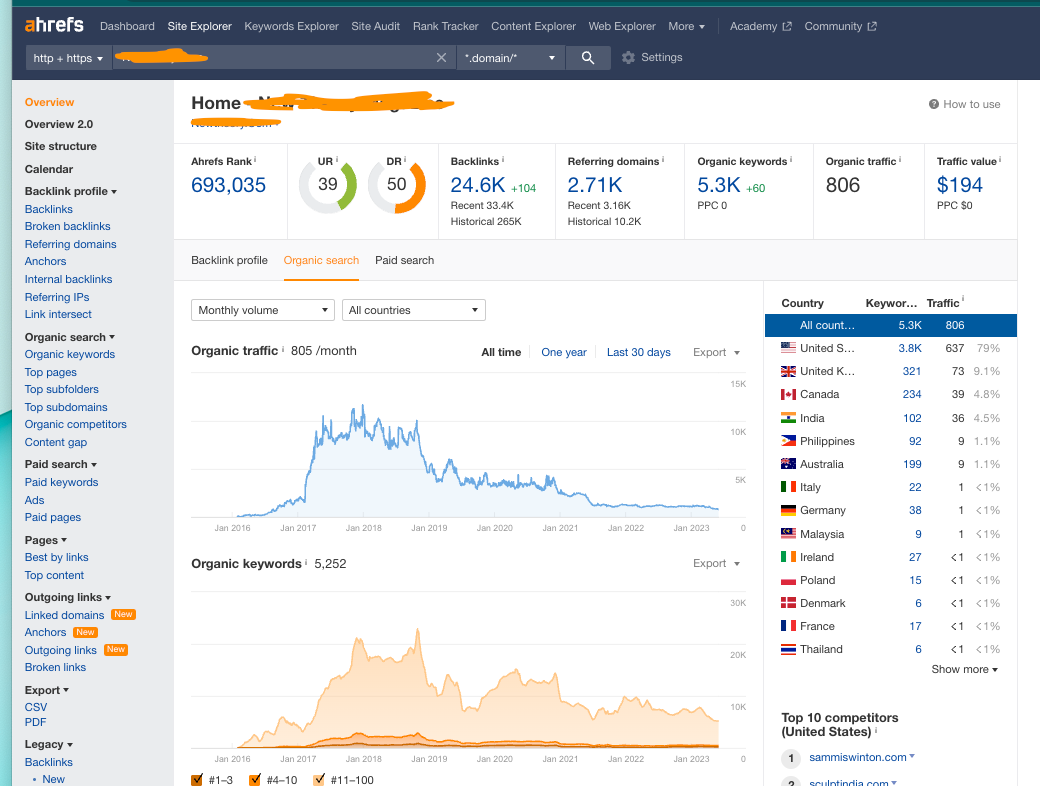 Bad sample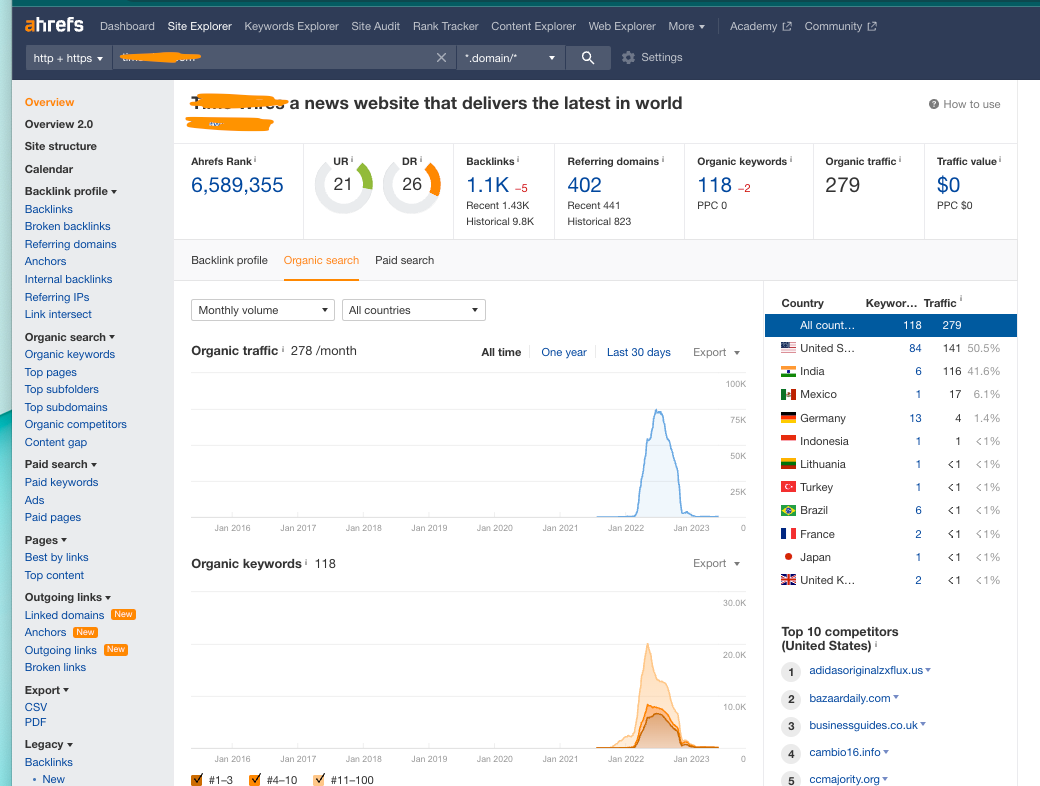 Top pages % distribution
The next crucial point is how traffic is distributed. Some of the link builders pay attention to the percentage of top pages. If one page generates> 50% of the traffic, you must decide whether to add this site to your link-building campaign.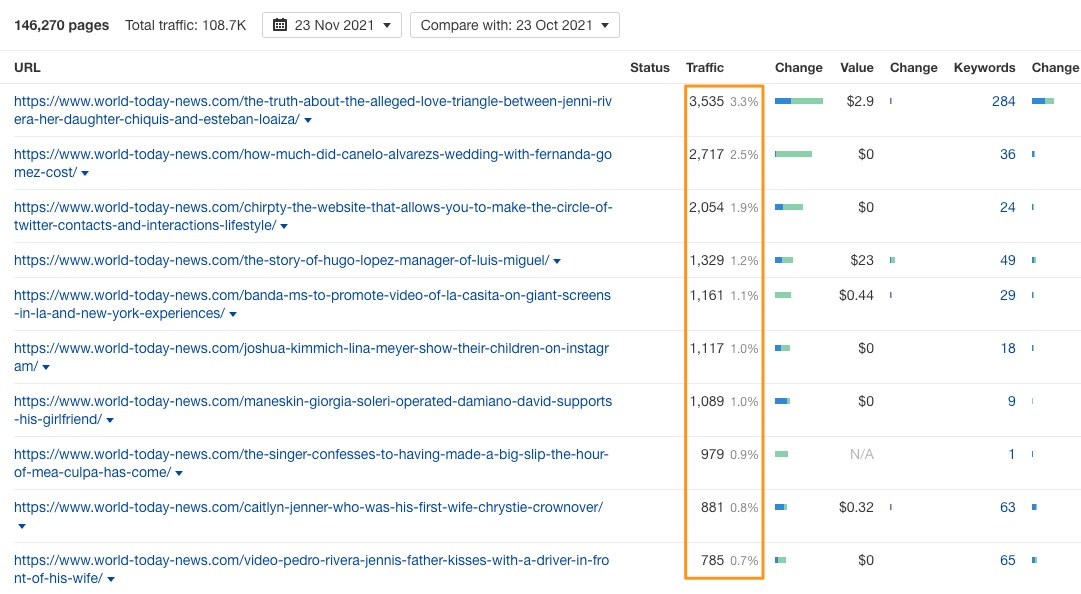 Does the site publish stories with links to Casino, Adult, and Betting sites?
If the site publishes explicit content like casino, adult, and betting, it means that Google can punish the mentioned site. As a result, your link will have no value in the future. For some industries it is too crucial to place links on sites that publish explicit content.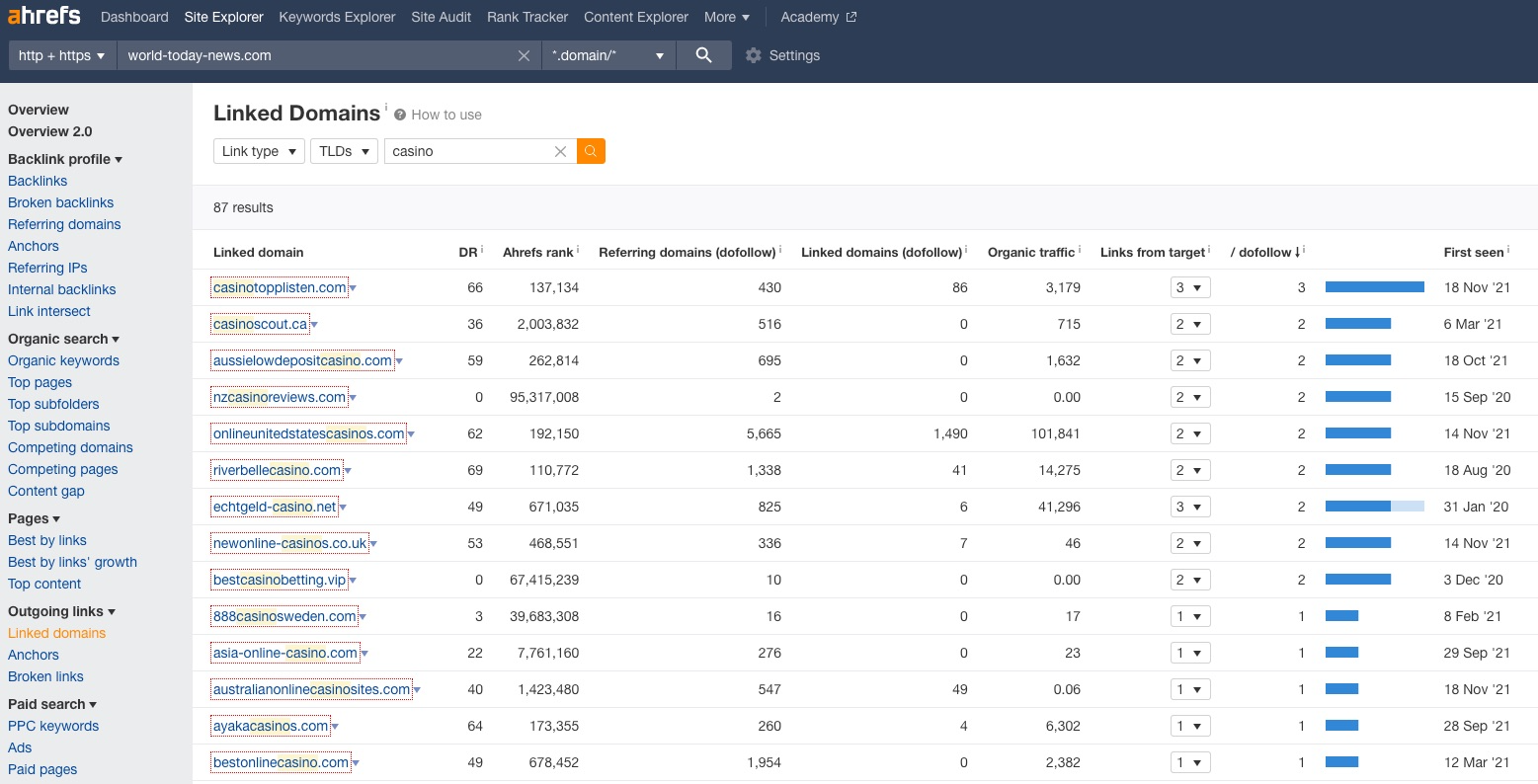 Backlink Profile Analysis
Backlink profile analysis means you must value the quality of links leading to a site. First, check the link domains and anchor list. At this point, you need to ensure no spammy anchors and suspicious websites are in the backlink analysis report.
Spammy Content and Search Engine Penalties
It is essential to check if a new website you plan to backlink to has any spam or search engine penalty issues before you link to it.
You can use the Moz Spam score metric to evaluate your site, where you will get backlinks.
Date of the Latest Update
Ensure that the website you choose for link-building meets high standards across various metrics while prioritizing its most recent update date. To build links, you should select regularly updated websites, so don't include domains that haven't been updated in the past year.
You can streamline the process by conducting bulk checks specifically for websites with the Last-Modified HTTP header. This header provides information to the browser regarding the page's most recent update. However, for websites lacking this header, you must manually verify the dates of their latest updates.
Negotiating adding the link to the site
The last analysis stage is when you receive the answer from the site owner. You can match your requirements with the guidelines.
Anchor text
There is no standard recommendation on what exactly anchors you should link. Some sites that publish guest posts ask to use brand and organic anchors. Someone prohibits the use of exact match anchors. Sometimes, you can find a resource page that doesn't accept your anchors.
Link placement
It is more likely that readers will follow links at the beginning of an article rather than at the end. Another common practice is to publish articles with additional 2-3 trust links. The community thinks the article only with one link to your site looks strange to Google.
Most of the links are content links that are added to the body text. Linking in footers and sidebars isn't worth nearly as much as linking directly to the content of a page.
Tag attributes (Nofollow vs. follow)
The main effort is to receive do-follow links. Nofollow is good when the resource page has reasonable traffic (for instance, articles with a list of services). It's already an excellent option for mention for PR purposes also. But in most cases, the main idea is to get backlinks.
URL Destination
Sites prefer to place links to informative pages like linkable assets or blog pages. It would help when you spent additional time negotiating the placement into your home or service pages. 
Order of the sites check
There are no rules about the most essential and least critical metrics. It's hard to find relevant resource pages that meet all requirements. Even if you find it, there is no guarantee. It's your approach to select first and the importance of each metric.
As a result, you can develop your metric system with quantity and quality metrics. Some metrics are automatic via API importation; nevertheless, you manually add quality metrics to the file. As a result, you receive a score of the domain where you will insert the link.
Conclusion
We collected the most common approaches to identify required sites to place links to your site. A person responsible for the link-building campaign should balance different types of integration (link insertion to the existing articles or publishing new posts), select relevant sites with low domain ratings or not 100% relevant sites with high domain ratings, and choose the most suitable anchor texts. The main idea is that link building is a continuous process, and you always need to keep your process updated and estimate the potential influence on your ranking process.
It is impossible to measure the quality or relevance of a website by one or two parameters. You may have to spend a lot of time and energy choosing sites for link building. Checks are conducted based on the following parameters:
Content structure

Ratings and trust ratings of websites

A niche's relevance

Ranking keywords for a website

Growth dynamics of backlink profiles

Search engine penalties for spammy content

Ads and pop-ups overall

The ratio of total pages to traffic volume

Date of the last update
The bulk analysis is only available for several parameters; others need a manual check for each domain. Nowadays the market offers a lot of resource pages to place your links. Your link-building strategy should take into account a lot of metrics to evaluate quality backlinks.